The Storyteller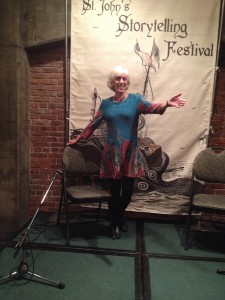 Jennifer Ferris uses the draw of humour and just the right word to bring audiences of all ages into tales of myth, magic and transformation.  Her own family stories strike a common theme that has prompted listeners to demand that she tell the story of their families!  This misunderstanding of who knows what allowed her to lead listeners and workshop participants into thinking about their own experiences and their connections with story. Eager to include audiences in storytelling, Jennifer leaps into an Improv stories where no one knows what will happen next! She has performed at storytelling conferences, at schools, festivals, museums, community events, nature sanctuaries and parks. She has delighted audiences across Canada, in England, USA, France and Guatemala.
The Educator
An educator since 1991, she has had many opportunities to share stories with all grades from Kindergarten to Grade 12, infusing her programs with fun, song, participation and laughter while tailoring them to classroom environment and curriculum.
"The last afternoon before the winter break and, within moments, your story was able to transform   a group of excited, sugar-charged students into quiet, involved listeners." (Tod Evanchiew, teacher.)
She advocates the value of storytelling for students with disabilities and has presented at Special Education conferences in California and Vancouver on the use of storytelling.  Jennifer believes that storytelling empowers everyone.
The Director
She directed the Victoria Festival of Storytelling and was part of the team responsible for the SC-CC conference in Victoria. She has also produced events for the UNO Festival and World Storytelling events.
Working with Children
She is passionate about storytelling for children and promoting storytelling by young people. Through the formation of storytelling clubs, Jennifer has created performance opportunities for young tellers in schools and at community events.
Workshops
She offers workshops in all aspects of storytelling from the first step into telling to the edgy world of improv.  She has mentored ESL students and new Canadians in the wonderful art of storytelling proving that storytelling is an effective tool in learning a new language.
Coaching
Jennifer has worked with story coach, Doug Lipman, and many other North American professional tellers.
As an active storyteller and workshop facilitator for almost 30 years, Jennifer is as enthusiastic about the work of other storytellers as she is about her own.
As a storytelling mentor she helps new storytellers to develop and perform their stories for peers and the larger community. Experienced storytellers also seek her out for advice and coaching.
Social Dynamics
Jennifer has facilitated social cognition groups for teenagers is Autism Spectrum Disorder for the past 5 years.  She participated in the planning and introduction of the Social Dynamics 11 credit course at Oak Bay Secondary in Victoria and has made presentations about that course at the Social Thinking Provider's Conference in San Jose and at the Special Education Association Crosscurrents Conference in Vancouver.