Who will you meet on the path of storytelling?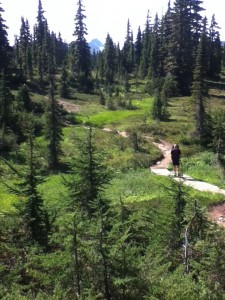 Jennifer offers a variety of programs including:
Tales of the West Coast: stories about light houses, Vancouver Island characters and a cougar at the Empress Hotel!
Gold Fever! stories of the people who answered the clarion call of gold and sort riches, adventure and romance in the gold fields of British Columbia
Tales of Magic and Mystery: stories old and new that spark the imagination and take the listener around the world
Food and Friendship: sharing a story is like sharing a good meal – it nurtures and nourishes. These stories feed the imagination.
Ghost Stories and Shivery Tales: stories from Vancouver Island and around the world that are delightfully scary.
Tales of Transformation: the story of the man who became a woman who became a horse who became a deerhound and many others.
Tales for the Season including:
Easter Stories
Winter Stories
Halloween Stories
Story programs can also be tailored to the specific needs of the audience or group
For costs, please contact Jennifer ferris.stories@gmail.com or 250 818 3389